We used to wear surgical masks during our periods of lockdown in the past 2 years and resisted buying a more comfy cloth mask as we always thought it would end before our mask got to us. When Queensland started recording a 'J curve' with our daily COVID numbers, we decided enough was enough.
I must have gone through a a few dozen face mask websites and quickly striked most of it out. In the end, the only 2 contenders were Airinum and AusAir. Airinum won in the end.
In essence, the KN95 certified Airinum Lite Air Mask is a lightweight reusable mask that has 99.9% protection agains viruses, including COVID. The mask offers an unprecedented level of comfort, style and security in comparison to other masks on the market and I highly recommend it. 
Let's take a deep dive:
(Please note that this is a kick-ass super long review. The best way to navigate it is to click on the links in the content box to get to the info you want quicker)
Introducing the Airinum Lite
The Airinum Lite Air Mask is a reusable face mask that protects against air pollution, cigarette smoke, bad odors, smog, pollen, allergens, bacteria and viruses. Heck, it even protects you from the sun and is rated UPF50+.
The mask skin is made with lightweight 3D air mesh material and the earloops are softly elastic, making it airy-light and easy to wear. Thus the name.
There is an overhanging piece of fabric along the inside edges of the mask. This 'pocket' is meant to hold the mask filter in place.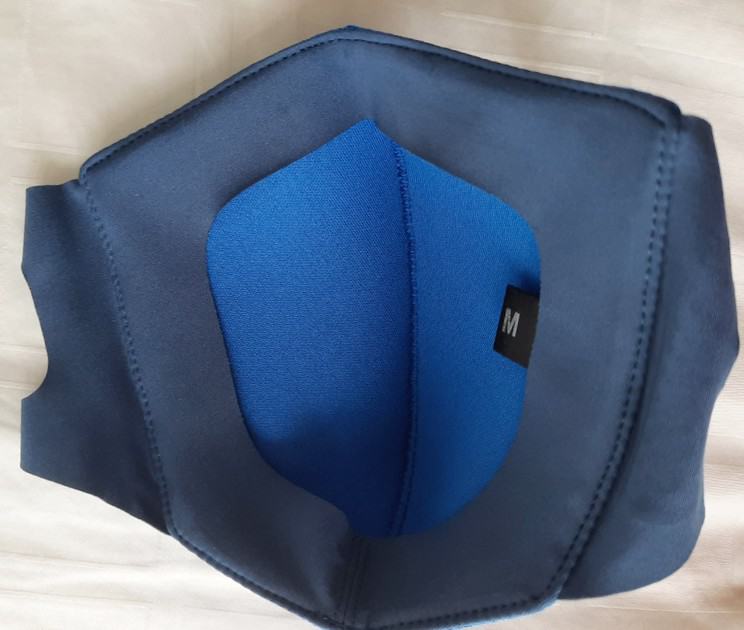 The face mask comes with 2 replaceable air filters and a detachable head clip. 
Adam got the grey Airinum Lite Air in large while I got a medium mask in blue: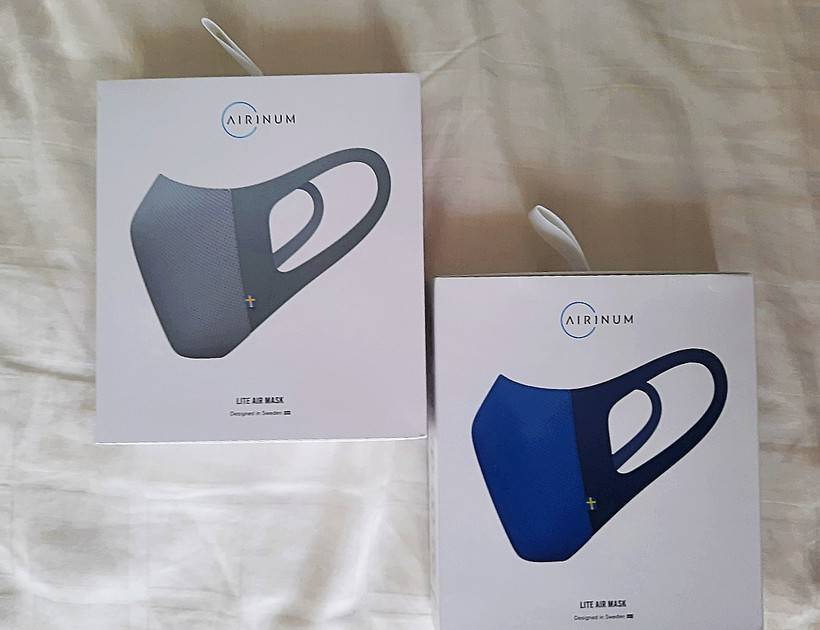 Outstanding features of the Airinum Lite Mask
Of all the reusable mask brands, Airinum offers the most sizing options to ensure you get a mask that best fits your face.
I can honestly say it felt really light and comfortable. And it doesn't displace my glasses, which is a big plus.
The 5-layer KN95 certified filter protects you from COVID and other air-borne viruses and bacteria.
It also filters out air pollutants like smog, smoke and bad odors, pollen and other allergens.
The mask skin is treated with Polygiene to keep the mask fresh for longer. More about this later.
There are 9 colors to choose from, all of which look just amazing.
It has a minimalistic design and looks so elegant and professional. I wore this to work at the hospital and felt utterly cool.
It comes with a transparent head clip to help hold the mask tight.
The head clip is placed on the mask for better visibility: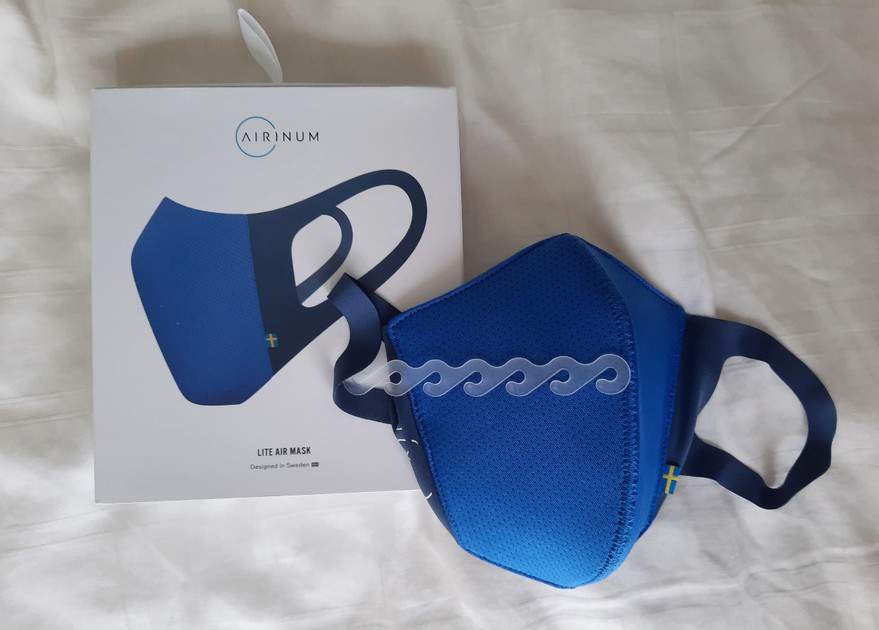 What's not so good about it
If you run out of filters, the mask skin by itself is useless.
When you have a good seal on, it's hard to breath in it, especially when you're walking a bit quicker or going up the stairs. There's nothing you can do about this though. If you want to be properly protected, you'll need to accept feeling like you're breathing through a vacuum.
There is a giant Airinum logo on the side of the mask. At first I felt a bit self-conscious wearing it, as if I was showing off.
The earloops stretch out quickly. I think that's why they give you a free head clip.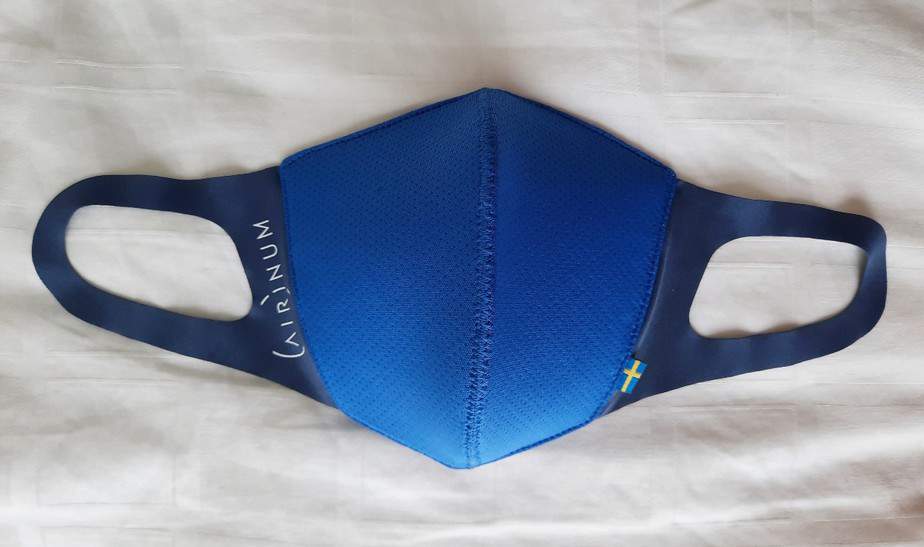 Can the Airinum Lite Air Mask protect you from COVID?
Yes, the Airinum Lite Air Mask can help to protect you from COVID. Health authorities recommend face masks with filtration certification standards of N95 and above. The Airinum Lite Air Mask has KN95 certification, which is equivalent to an industrial N95 respirator.
Viruses are extremely small particles (0.02 – 0.03 microm) but the good news is they travel through the air by piggy-backing on larger particles (sizes can vary between < 1 microm up to 6 microm).
The Lite Mask is tested and certified for 98% protection against particles down to the size of 0.3 microm. That's good enough to block out most (99.9%) virus particles.
However, no mask, no matter how effective and well-fitting, can fully protect you from viruses like COVID. You still need to physically distance, reduce contact with others and practise good hand hygine.
Airinum Lite filter
The Airinum Lite filter is the main work-horse of the mask. The nose-clip and nose-foam is situated on the filter instead of the mask skin.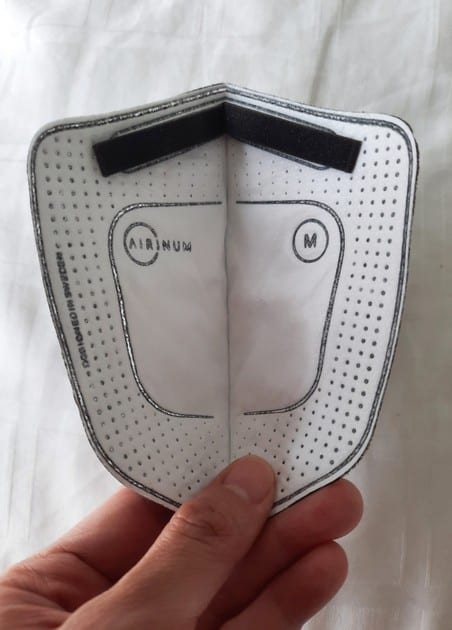 The Lite filter is made up of 5 different layers. Each layer has a different density to filter particles of different sizes:
Outside PP later – that's just the filter wrapping
Active carbon layer – this is the layer that stops gas and bad smells
1st electro charged layer – filters larger particles, pollen and other allergens
2nd electro charged layer – filters smaller particles, dust, bacteria and viruses
Inside  PP layer – inside filter that is in contact with your skin so it's really smooth and soft so it doesn't irritate.
Now you understand why it is hard to breathe through. The basic fashion cloth masks are super breathable but it's because they are just for show and are basically useless.
The replaceable filters come in packs of 3:
Check it out on Amazon
Airinum Lite tests and certifications
The Lite Air Mask complies with the following standards:
GB 2626-2019 KN95
Grade B for GB/T 32610-2016
It's also been tested at the Research Institute of Sweden for particle filtration efficacy and at Nelson Labs for bacterial and viral efficiency.
All their tests and results are listed for public viewing.
To summarize for my fellow laymen, it's a certified industrial standard face mask that will filter out COVID and most other airborne particles.
How does the the Lite Air feel?
I never thought I would say this about a mask but it actually felt good. It was almost as light as the basic surgical face masks we had on but a gazillion times more comfortable.
The inner part of the mask skin that touched my face was silky smooth. The filter doesn't actually touch my face at all and had a faint scent to it that wasn't annoying and faded very soon afteer wearing.
The soft and stretchy earloops sat behind my ears comfortably, even over many hours.
Without the head clip, the mask felt 'just right', sitting at the right position on my face. However, I didn't actually achieve a tight seal. Even without a tight seal, because of the memory foam at the nose bridge, there was minimal leakage and it didn't fog my glasses.
With the head clip on, I achieved a much tighter seal but obviously, it wasn't as comfortable to breathe through then.
The biggest leak happens where the ear loops connect to the main part of the mask. If you find it too leaky, tighten the head clip further. 
Do I recommend the Airinum Lite Air Mask?
While most masks are bulky, hard to breathe in, and are uncomfortable, the Airinum Lite Air Mask is different. It's soft and light, making it very comfortable to wear, even for long periods of time.
To be frank, I haven't tested any other reusable face mask so I can't say it's the most comfortable mask EVER. But I can say I'm so happy with it that I have no intention of shopping around for other options.
Check it out on Amazon
Airinum Lite sizing
The Airinum Lite Mask comes in 4 sizes:
XS for 12-25 kg children
S for 25-45 kg children/ teenagers
M for 45-70 kg adults
L for adults over 70 kg
Please note that the Airinum Lite Air sizing is different from the Airinum Urban Air Mask.
How do you measure for the Airinum Lite Mask?
The other measurement you should take is your eye-chin distance. Use a ruler to measure the vertical distance between your lower eyelid and your chin.
Then use the table below to estimate your correct mask size:
| | | |
| --- | --- | --- |
| Recommended Size | Eye-Chin Distance (cm) | Eye-Chin Distance (inches) |
| XS | Less than 8.1 cm | Less than 3.1 IN |
| S | 8.2-10.1 cm | 3.2-3.9 IN |
| M | 10.2-11.3 cm | 4.0-4.4 IN |
| L | Over 11.4 cm | Over 4.5 IN |
If you get different recommendations for your weight and eye-chin distance, follow the one from the eye-chin distance measurement.
If your eye-chin distance is on the borderline, pick the bigger mask for a better fit.
Unfortunately, if you are like Adam, who has a very long, sharp chin and a beard, the mask doesn't come in XXL. It still fits him but he had to make do with the mask sitting much lower down the bridge of his nose.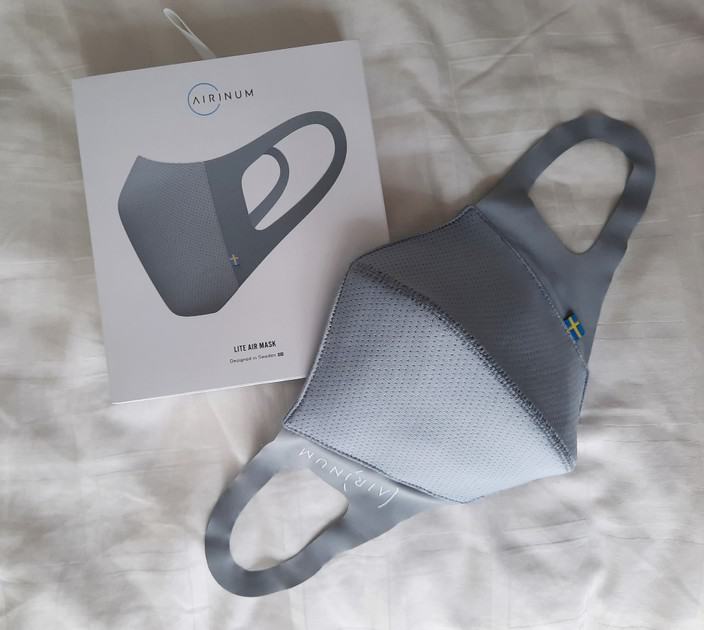 How to use the Airinum Lite Mask
Put the earloops around your ears
Adjust the nose-foam and nose-clip on the bridge of your nose. It needs to fit snugly around your nose.
If you are using the head clip, bring it around your head and attach the free end to the other earloop. Adjust between hooks 1 to 4 until you get a comfy snug fit.
Do a sealing check by taking a sharp breath in. If you have a full seal, the front of the mask should move slightly inwards towards your face. If not you will feel air leaking at the edges of the mask.
If you don't get a full seal, readjust the mask by reshaping the nose-clip and tightening the head-clip.
This video explains it very easily:
How do you assemble Airinum?
The Air Lite is pretty intuitive to assemble:
Identify the top and bottom of the mask skin and filter. Hint: The short seam on the inside of the mask skin is the bottom of the mask skin. The nose foam on the filter is the top of the filter.
Lift the inside pocket of the mask skin and insert the filter, making sure the filter is inserted into the pocket the entire way round.
Adjust the filter so that the front crease weld matches the front seam of the mask skin.
If you are attaching the headband, attch the hook with an arrow symbol > to one of the earloops.
Instructions too confusing? watch this video instead:
What to do if your face mask fogs your glasses
There are 3 main things you can do to reduce the chances of foggy glasses:
Make sure your nose foam and nose clip creates an air-tight seal so your exhaled air doesn't blow upwards and fog your glasses
Instead of having your glasses on your nose bridge, put it just over the top of the mask instead.
Use an anti-fog wipe
How to take care of the Airinum Lite Mask
Be careful when you are wearing the mask and taking it off. While really easy to take on and off, the elastic earloops stretch easily. If you want the elastic to last longer, be gentle, no pulling your mask below your chin regularly and try not to take it on and off too often.
When not in use, store it in an airtight bag. I used a ziplock breastmilk bag because I had a few lying around and they were the perfect size for my medium sized mask. Hubby used a sandwich ziplock bag for his.
How to wash the Airinum Lite Mask
Even though you can technically wash the mask in a washing machine, I recommend hand washing instead. The mask skin is so small that it literally takes minutes to wash.
Wash in hot water (at least 60 degrees), giving it a gentle rub with your fingers. Make sure you test the water first to prevent burns.
The headclip can be wiped clean with a disinfecting wet wipe.
Can you wash the Airinum filter?
You should never ever wash the Airinum filter. In fact, you should never let it get in contact with water as it will reduce its effectiveness.
If for whatever reason your filter gets dirty or wet, quickly wipe it with a dry soft tissue. The nose foam can be wiped clean with a disinfecting wet wipe.
If your filter gets too dirty, you should change it even if it's not time yet.
How long do Airinum filters last?
On average, the filter lasts about 100 hours. However, if you wear the mask in a highly polluted environment, the filter will only last you 10-20 hours of wear.
In other words, if you wear the mask in an office-type environment, you only need to change your filter after about 2 weeks (assuming you wear your mask 8-10 hours a day). If you want to wear it in a construction site, don't. You can't afford to change the filter every 2 days.
You need to replace the filter if it becomes wet, damaged or contaminated.
How often do you change the Airinum filter?
Airinum recommends changing the filter after about 100 hours (2 weeks) of use. I don't use the mask every day and therefore, manage to stretch it out to 1 month.
The best way to know if your mask filter needs changing is if you find it harder and harder to breathe through it. This means the filter is clogged up with filtered particles.
Airinum Lite vs Airinum Urban
Airinum Lite Air Mask and Urban Air Mask 2.0 are both lightweight, stylish and comfortable masks with a high-performance filtration system.
The main difference is the Airinum Urban has exhalation valves so it's easier for you to breathe. It also keeps the mask fresher for a longer time as it reduces moisture build up. These come with valve stoppers.
The Urban Air is also more expensive than the Lite Air.
The Urban Air 2.0 looks uber futuristic but I still prefer my elegant Lite Air:
Check it out on Amazon
Are Airinum masks worth it?
Airinum masks might be more expensive than many fashion cloth masks but they are entirely worth it. Where else are you going to find a face mask that is 99.9% protective against COVID, lightweight and stylish all-in-one?
Airinum has been designing face masks since 2015 and it shows in the maturity and deep thought that goes into the design of the Airinum Lite.
Where is Airinum manufactured?
Airinum masks are designed in Sweden and made in China to strict industrial standards.
Is Polygiene treatment safe?
When I heard the mask was treated with an anti-bacterial layer, I almost decided not to buy it. It sounded toxic and I didn't want my skin to be absorbing chemical throughout the day.
It turns out Polygiene is active only on the fabric surface and is more than 100 times larger than nanoparticles. This makes it way too large to penetrate ths skin. It also doesn't change the skin's natural bacterial flora.
Reassuringly, Airinum fabric that is treated with Polygiene are also Bluesign approved, meaning they offer the highest level of consumer safety.
To wrap up
The Airinum Lite Air Mask offers an unprecedented level of comfort, style and security in comparison to other masks on the market. Highly recommended as a mask to help protect you against COVID and other airborne diseases and pollutants.