It's no secret that the skin around the eyes is thinner and more sensitive than any other facial area. It needs a special product to keep it protected, comfortable, and looking healthy.
Clinique Moisture Surge Eye is a gel formula that absorbs quickly, plumps up lines and wrinkles, and provides long-lasting hydration for the delicate eye area. The auto-replenishing lipid spheres keeps your skin moist for up to 96 hours, provided you don't wash your face. 
Let's take a deep dive:
What is the Clinique Moisture Surge Eye?
The Clinique Moisture Surge Eye 96-hour Hydro-filler Concentrate comes in a 15 ml pump bottle and is part of the Moisture Surge range. It is a super-charged eye moisturiser that is designed specifically to hydrate, tighten and brighten the delicate eye area for 96 hours.
That's 4 days. I call bull.
Check it out on Amazon
What does the Clinique Moisture Surge Eye do?
The Eye Hydro-filler Concentrate contains hyaluronic acid and lipids in suspended high-tech spheres that are 'auto-replenishing'. In other words, it pulls moisture into the skin area around your eyes and keeps it hydrated.
This in turn will camouflage your eye creases and fine lines, making them plumper and less noticeable.
Oh yes, and the effect is supposed to last for 96 hours.
This is the empty pump bottle. Apologies that I forgot to take a photo before I finished using it all.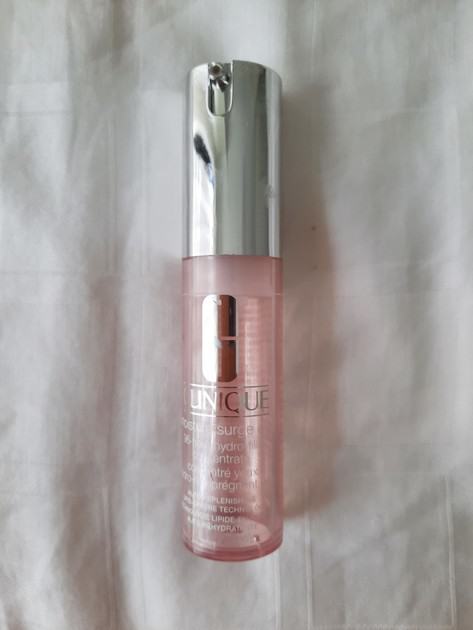 Does it work?
Sort of. Kinda. For a while.
Don't get me wrong. I loved the Clinique Moisture Surge Eye and will buy it again. It was very hydrating and kept the skin around my eyes looking 'plump' but didn't cause any of those small milia-like bumps that can happen if your eye cream is too rich.
But Clinique went overboard with their 96-hour hydration claim.
Maybe if you didn't wash your face for 4 days, the concentrate will continue to do its thing. But who does that?
The moment you wash your face, even if you didn't specifically remove eye makeup or touch your eye area, the effect is gone. You'll need to reapply it. And if you don't, your delicate skin will feel and look dry.
How does the Moisture Surge Eye feel?
It's a liquid gel-like consistency that easily drips of your finger if you're not careful. The gel is super easy to dab on to your eyelids and under-eye area. Once applied, it literally disappears from view and absorbs within seconds. 
Especially if you have tired eyes, the gel feels so cooling and refreshing when it first goes on. Once absorbed, you won't know it's there. Unless you touch your skin. The concentrate leaves a sticky-like residue on your lids when dried.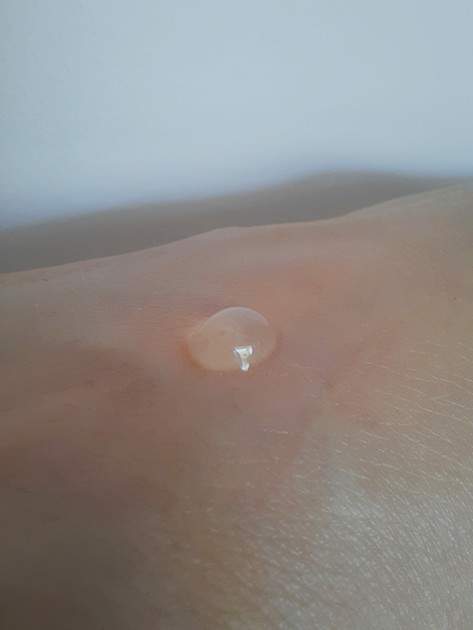 Who is it for?
Women (and men) who want to keep their eye area moisturized and prefer a gel application rather than cream.
It suits all skin types, even oily skin. The area around your eyes are hardly ever oily anyway. Regardless, it's light-weight and doesn't cause milia.
Check it out on Amazon
Even when I had seborrheic dermatitis of the eyelids, the Clinique eye gel worked wonders and didn't aggravate my symptoms. 
What I like about the Clinique 96-hour Eye Concentrate
There's lots to like about the Clinique Moisture Surge range, and the Eye Hydro-filler specifically:
The gel and tiny suspended spheres are super light-weight and absorbent. The moment you dab it on, it absorbs within seconds and disappears.
Unlike some other eye creams, there is no need to massage or rub it in. The skin around your eyes is sensitive so the less pulling the better.
It really does hydrate for as long as you don't get water or sweat on your face.
The pump bottle that it comes in looks great and is super efficient. You can control how much you pump (you only need a little bit – less than the pea-size amount they recommend) and it allows you to use all the product in the bottle. No wastage!
It's the ultimate all-in-one eye moisturizer. You don't need to top it up with any other product, including eye primers.
It has a subtle floral fragrance that I hardly notice.
What I don't like about it
The initial few pumps didn't contain any spheres. And how many spheres you get in a pump is variable and out of your control. It might be a placebo effect but I felt it didn't work as well when there were no spheres in my application.
I can't use it under makeup. Once dried, there is a sticky residue. My eye shadow sticks to it and goes on unevenly. On days when I use eye makeup, I only use the Moisture Surge Eye on my lower eye area.
When I don't use it for more than a day or two, the pump clogs up, presumably with spheres. It's easy to unclog. Just press a little harder.
This is the sample. I just wanted to show you what the spheres look like when they are suspended in the gel. Those dirty finger nails belong to Claire by the way.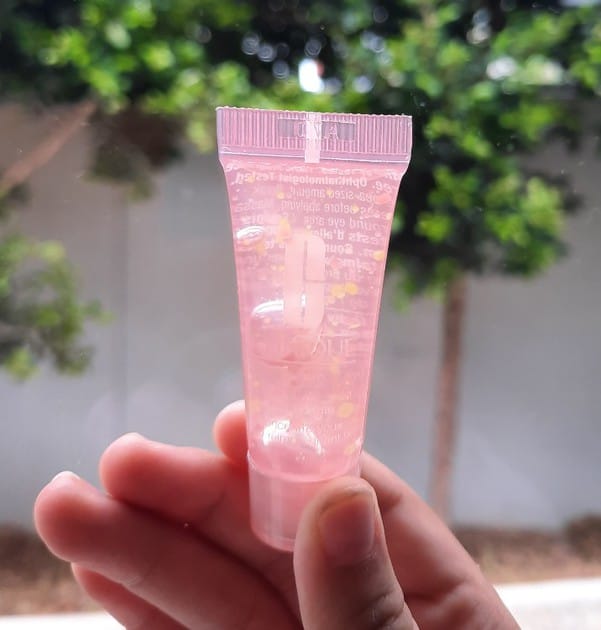 Do I recommend the Clinique Moisture Surge Eye Concentrate?
Yes, I do. Despite the small annoyances and incompatibility with eye makeup, I feel the hydration effect lasts a long time, at least until I wash my face. Another great Clinique product. Thoroughly recommended.
Check it out on Amazon
How to use the Clinique Moisture Surge Eye
This is what Clinique says:
Use a pea size amount
Massage around the eyes
Can be used alone, under make-up, or as a 3-minute eye mask.
This is what I do:
Pump a very small (half a pea size) amount onto my index finger
I dab both eyelids and under-eye area with product first.
Then I go back to each area and do a little dab-dab-dab to spread it out and help absorption.
I NEVER massage my eye area. It's such a delicate area. Any skin pulling you do will cause lax skin and WRINKLES. Yucks.
If you're using it under eye make-up, make sure it's fully absorbed first before applying any make-up. Otherwise, your eye shadow will migrate.
I also never use it as a 3-minute eye mask. Why would I do that? It's liquid gold! I'm not going to wash it off after 3 minutes.
How do you break the spheres in Clinique Moisture Eye?
When I first started using the Eye Concentrate, I felt the need to squeeze the spheres between my fingers. Then I realized I didn't have to do anything to it. The spheres  are really tiny and you can hardly feel it. The act of dabbing it into your skin is enough to break the spheres.
How often should you use it?
Clinique suggests you use it twice a day. I'm surprised they didn't say every 4 days since they claim it works for 96 hours. But I agree, twice a day at the very least. If you wash your face or have a sweaty gym session, you'll need to re-apply.
When do you use it?
The best time to apply the eye moisturizer is after your morning shower and after you've cleaned your face in the evening. This buys you the most time before you get water on your face again.
Clinique Moisture Surge Eye ingredients
I always get this faint feeling of dread when I look at ingredient lists and see a list of chemicals longer than the bottle. The major ingredients look 'natural' enough but it also contains undesirables. EWG gave the Moisture Surge Moisturizer, which contains similar ingredients, a rating of 4 – moderate toxicity.
Check it out on Amazon
Ingredients and their uses include:
Water
Glycerin to act as a humectant, allowing the skin to retain moisture
Butylene Glycol (a type of non-irritating alcohol)
Propanediol to help with absorption
Phenyl Trimethicone – a silicone that is used as an occlusive and to help the skin feel smoother
Sucrose (sugar molecule)
Hydroxyethyl Urea to lock moisture in the skin
Green tea leaf extract
Algae extract
Trehalose (a sugar molecule used to prolong shelf life)
Alteromonas Ferment Extract – this is an interesting one. Get this. It's an extract of the fermentation product of a bacteria that lives in deep sea water. The extract binds water and soothes your skin.
Acetyl Glucosamine
Gelidiella Acerosa Extract
Chlorella Vulgaris Extract
Aloe Barbadensis Leaf Water (aloe vera) and aloe leaf extract
Sorbitol
Cholesterol
Niacinamide (vitamin B3)
Pentaerythrityl Tetraethylhexanoate – an emollient ester that leaves a non-oily, hydrated feeling on skin
Sodium Polyaspartate
Coconut oil
Hydrolyzed rice extract
Caffeine
Acetyl Hexapeptide-8 – 'Botox in a jar' to reduce the appearance of wrinkles
Tocopheryl Acetate (Vitamin E)
Cucumber fruit extract
Palmitoyl Hexapeptide-12 – to improve firmness and skin tone
Glyceryl Acrylate/Acrylic Acid Copolymer
Glyceryl Polymethacrylate
Acrylates/C10-30 Alkyl Acrylate Crosspolymer
Peg-7m
Dextrin Palmitate
Dehydroxanthan Gum
Sodium Hyaluronate (hyaluronic acid) – interesting that this ingredient is so far down the list
Pentaerythrityl Adipate/Caprate/Caprylate/Heptanoate
Tetrahexyldecyl Ascorbate (an oil-soluble form of Vitamin C)
Carbomer
Peg-8
Sodium Hydroxide
Citric Acid
Triethoxycaprylylsilane (a silicone)
Disodium Edta
Sodium Citrate
Pentaerythrityl Tetra-Di-T-Butyl Hydroxyhydrocinnamate
Bht
Phenoxyethanol
Chlorphenesin
Blue 1 Lake (Ci 42090)
Yellow 5 Lake (Ci 19140)
Iron Oxides (Ci 77491)
What a long list! Most of the ingredients are non-toxic and I'm happy to put this on my skin.
Do you have to use the Clinique Moisture Surge and Moisture Surge Eye together?
The Moisture Surge Eye is part of the Moisture Surge range, consisting of everything from moisturizer to lip balm.
The moisturizer and eye concentrate is often used together but you don't to use both together for them to work.
Check it out on Amazon
Can you use the Clinique Moisture Surge Hydrator around your eyes?
As tempting as it is to use just one product for your eye area and the rest of your face, it's not a good idea. The skin around your eyes are delicate and sensitive. It needs products tailored specifically for the eye area. Face moisturizers, no matter how light-weight, are just too heavy for the eye area.
On the flip side, you can use your eye moisturizer on the rest of the face if you want. It's just that it's too expensive to be practical.
To wrap up
I will happily continue to use the Clinique Moisture Surge Eye 96-hour Hydro-filler Concentrate. It might not last 96 hours but it lasts long enough for me. 
Check out my NIOD Hydration Vaccine review after using it for 2 years.