Dr Lewinn's Ultra R4 Collagen Surge Overnight Sleep Mask is an advanced unnecessarily complicated product that contains high-tech sounding compounds like Dawnergy™, Synchrolife™ and DreamScentz™ to do miraculous things to your skin while you sleep. 
But does it work?
Let's take a deep dive:
First impression
The bottle is made of heavy glass and felt like quality material. The collagen and peptide serum were separated from the delivery gel in a separate compartment with a dual-chamber pump to spit out both serum and gel onto your hand when pressed.
Truth be told, I was pretty impressed with the bottle and presentation. The fact that the components were separated showed a higher level of quality. However,  the pump didn't work well for me. The first few pumps, only the collagen plumping serum came out. Then, I realized in order to get both out, I need to pump hard. Unfortunately, when I did that, way too much product came out. So much more than I need for a thin layer on my face. So I felt that was a waste.
Fortunately, after 'breaking it in' i.e 4-5 uses, the pump started to work beautifully and both serums came out in equal amounts, allowing a balanced mix.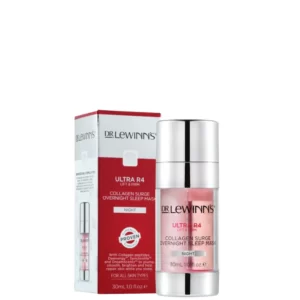 Is the sleep mask easy to use?
Because of the dual delivery system, there is the extra step of mixing the ingredients manually befor applying the mask. I did this easily by pumping the product onto 2 fingers of one hand and using 2 fingers of the other hand to mix it up. I then used all 4 fingers (2 on one hand and 2 on the other) to apply the product onto my face.
The serum felt a bit sticky but went on easily enough. Once applied, the mask is invisble – which is good. I don't like masks that look like masks. Don't want to scare hubs.
How did the Ultra R4 sleep mask feel?
The feel of the sleep mask was good. It dried quickly. I wasn't worried about it transferring to my pillow. You know how some masks are sticky and sit on top of your skin for ages? Well, this mask absorbs as quickly as a serum – almost immediately.
There was a mild hardly noticeable scent which dissipated the moment I applied it. In fact, I forgot all about the fact that I had a mask on very soon after. Which is good.
Results
When I tried it out in summer, it didn't clog my pores and increased my seborrheic dermatitis flares. My skin felt hydrated but not oily throughout the night. In the morning, my face actually felt firmer and plumper.
However, even though it was the perfect summer mask, it wasn't particularly hydrating. In winter, the mask left my face feeling a bit tight and dry in the morning. It felt like I needed to layer on another more hydrating mask on top to make it work.
To be perfectly honest, even though my skin felt and looked better in the morning, it was temporary. The effect didn't last very much past the morning. And when I had bad nights with poor sleep, no mask, including the Ultra R4, has had any effect. At the end of the day, good quality sleep is the best youth serum.
Ultra R4 Collagen Surge Overnight Sleep Mask ingredients
I was generally happy with the list of ingredients in this mask. It contained soluble collagen (which is better than 'just collagen'), niacimide (B3), panthenol (B5), hyaluronic acid, squalane, and various other oils and extracts with skin benefits.
The ingredients I didn't like were the chemicals in it like parfum, CI 77019, CI 77891, CI 60730, CI 14700 # HA0814(10). When your name is a number, you know you're not natural.
What does the Dr Lewinn's Ultra R4 Collagen Sleep mask promise to do?
Dr LeWinn makes a lot of big claims with this mask:
Collagen peptides to lift and plump – even with daily use, there was only a temporary feel of lifting or plumping in the morning.
Dreamscentz to improve sleep – definitely no difference in sleep quality or quantity.
Dawnenergy to awaken skin for morning radiance – whether or not my skin was radiant in the morning depended on how much sleep I got rather than the mask.
Synchrolife to counteract the effects of digital pollution – I don't even know what that means. My Chromebook has never smeared dirt on my face.
Did it deliver on its promises?
Even with daily use, there was only a temporary feel of lifting or plumping in the morning. By mid-morning, my skin looked and felt much the same as usual. There was certainly no lasting skin benefits.
The scent is not irritating and isn't overpowering at all. But it definitely made no difference in my sleep quality I or quantity. I would rather no scent than a synthetic 'aromatherapy' scent.
I found that whether or not my skin was radiant in the morning depended on how much sleep I got rather than the mask, or any other mask for that matter. When I didn't get a good sleep, the Ultra R4 didn't work.
The mask also has Synchrolife to counteract the effects of digital pollution. I don't even know what that means. My Chromebook has never smeared dirt on my face.
It's a shame that DrLewinn made so many promises with this mask. It was all unnecessary and distracts from the one and only thing this mask needs to do – firm and lift my skin. Which it did. Temporarily. Which is normal. It's what all masks do. I'll go into detail below if you're interested.
Who is the Ultra R4 for?
Anyone with normal, oily or combination skin looking for a collagen serum mask for sleep.
Who is it not for?
If you have dry skin, aging skin or live in a cold, dry climate, this mask is not hydrating and plumping enough for you.
If you're into natural skincare, this mask is not for you either.
What is collagen?
Collagen is a protein that is found throughout the body, including in the skin, bones, and connective tissues. It plays an important role in keeping these tissues healthy and strong. Collagen production declines with age, which can lead to wrinkles.
People use several ways to increase collagen production, including eating foods high in collagen-rich proteins, taking collagen supplements, and using collagen-based skin care products. But they are not equally effective.
Further reading: Does collagen help seborrheic dermatitis?
Do collagen masks actually work?
The short answer is no. Collagen is a large molecule that doesn't get absorbed by the skin. When you apply a collagen mask – it doesn't matter if it's a sheet, gel, cream or serum mask – the collagen sits on your skin and doesn't do anything.
Some collagen masks contain hydrolyzed collagen or collagen amino acids. These are smaller molecules that can be absorbed by the top layer of the skin to some extent. The theory is that your skin will absorb these raw material and use it to make more collagen. However, there's no strong evidence that this actually happens.
If you feel that your collagen mask is working wonders for your skin, chances are it's due to the other ingredients in the mask like hyaluronic acid, niacimide and other small molecules with skin benefits.
The Dr Lewinn's Ultra R4 Collagen Mask contains soluble collagen. Similar to hydrolyzed collagen, it's somewhat absorbed by the top layer of the skin.
I definitely prefer beech bud extract which has hydroxyproline, a collagen amino acid that is easily absorbed by cells to be used as a building block for collagen. Read my Lancome Clarifique Dual Essence review. 
Can I use collagen masks every day?
As collagen doesn't get absorbed anyway, you can use collagen masks every day. All the time if you want to.
However, if your mask contains other ingredients that are not safe to use daily, for example, exfoliants, then you shouldn't.
Side effects of collagen masks
Topical collagen is usually well-tolerated. It may not help but it's unlikely that it harms. However, most if not all collagen skin products come with other active ingredients, fillers, preservatives, fragrances and other chemicals. Your skin may react to these.
If you have skin irritation, burning, redness or itching after using a brand of collagen mask, cease and desist.
To wrap up
As far as collagen sleep masks go, the DrLewinn's Ultra R4 is pretty good. Even though my skin isn't doing anything with the collagen, this mask contains various other skin-beneficial ingredients that probably contributes to my better skin in the morning.
However, for real anti-aging skin benefits, reduce your stress, improve your diet and have some good quality sleep.
You may also be interested in my review of Dr Lewinn's Ultra R4 Collagen Plumping Gel.