Dr Lewinn's Ultra R4 Collagen Surge Plumping Gel is daily moisturizer that uses Neodermyl® (a collagen filler) and hyaluronic acid to improve the appearance of wrinkles and incraese skin elasticity. Dr Lewinn's claims that 84% of users notice plumper skin after 1 hour (which is believable) and 92% continue to have plumper skin after 4 weeks of use (I will debate that).
Let's take a deep dive:
What is the Ultra R4 Collagen Surge Plumping Gel?
The Collagen Surge Plumping Gel is part of Dr Lewinn's Ultra R4 range, focusing on plumping the skin and reducing the apperance of fine lines. These products are aimed at older women as part of their anti-aging regimen.
Even though there is a range of products in the range, including masks, eye creams and lift serums, any of these products can be used by itself.
Check it out on Amazon
First impressions
As with most of Dr Lewinn's products, the packaging is impressive. The jar was made of heavy glass and it screwed and unscrewed easily and securely. It came with a silver spoon that I threw away because I was too lazy to use it. However, for hygiene purposes, you probably should.
All Dr Lewinn's products are of a pinkish hue and this is no different. The little pearl balls of collagen soaking in transparent gel reminded me of sago, the dessert of my childhood.
There was a mild scent that dissipated quickly and it was hardly noticeable. It certainly wasn't overpowering or annoying.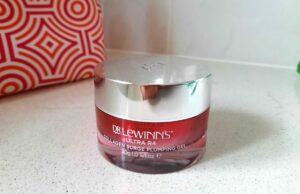 Is it easy to use?
I was less impressed when I tried to use the product. The collagen balls were surprisingly hard to break and required actual pressure. I've used products with ball-like consistency before and it generally dissolves and absorbs into my skin easily. The problem with this is that unless you're super careful, you'll probably drop some balls when you try to break a few at one go.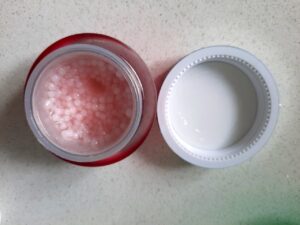 However, once you break the balls, the product glides on your skin easily and is almost instantly absorbed, leaving you with a fresh, taut feel.
Results
This 'plump' feeling lasts for quite a few hours, usually until lunch time. My skin acually felt bouncier when I pressed on it! And because it absorbed so easily, leaving no residue, I could almost immediately continue on with applying my primer and foundation. Unlike some other moisturizers, it didn't peel under makeup.
Further reading: Makeup for seborrheic dermatitis: How to make yourself look beautiful
I also found that I could safely use the plumping gel without fear of it clogging my pores, worsening my acne or flaring up my seborrheic dermatitis (SD). In fact, I used the plumping gel after the inflammed phase of my SD flare and found that it helped rehydrate my dry skin, reduce scaling and repair my skin barrier.
I can't really comment on its anti-wrinkle benefits as I have a few deep smile lines but hardly any fine lines on my face. As it left my face more hydrated, my lines didn't look as obvious and I assume that it would have a similar effect on fine lines.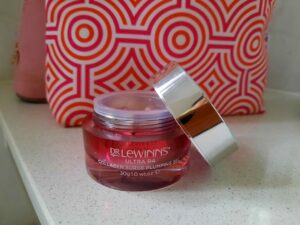 However, even after using almost the whole jar over 3-4 months, I didn't find any lasting plumping and anti-wrinkle benefits. The immediate effect of using the gel is obvious and can last for 4-5 hours, but once I stopped  using it or washed it off, my face felt and looked much the same as usual.
I'll be clear though, this is normal and expected for topical treatment. There is no magic cream that will reverse aging skin. You need to look much deeper for lasting anti-aging benefits.
My verdict
All in all, even though it was inconvenient to use compared to most of my other skincare products (because of the need to forcefully break the collagen balls), I loved the plumping and firming feel that it left me. The effect lasted at least 4-5 hours, which was more than I got from most other collagen creams I've tried.
I also appreciated the fact that I could continue with my makeup almost immediately after applying the gel without worrying about pilling. For a busy mom with screaming kids, that's priceless. I'm definitely more impressed with the Ultra R4 Collagen Gel than the Ultra R4 Collagen Sleep Mask.
Ultra R4 Collagen Gel Ingredients
The ingredient list for the Collagen Gel is pretty good for a non-natural product. It utilizes hydrolyzed collagen, which is better absorbed by the skin than 'just collagen'. It also contains hyaluronic acid, copper, Panax Ginseng Root extract, ceramides and hydrolyzed keratin.
The collagen used in the Plumping Gel is Dr Lewinn's trademarked Neodermyl®. They claim that it's a 'needle' free collagen filler that can significantly improve the appearance of fine lines, wrinkles and enhance firmness and elasticity. From what I understand, it's a combo of hydrolyzed collagen plus copper lysinate and prolinate. This is an amino acid/mineral complex that early research has shown to be effective in improving multiple skin signs of ageing.
Sago dessert anyone? Yum!
Making no claims to be all natural, the product also contains ingredients like silicones, preservatives, synthetic fragrances and CI 77491 #180519A-1 (who knows what this is but it can't be good).
What does the Dr Lewinn's Ultra R4 Collagen Plumping Gel promise to do?
Dr Lewinn's Plumping Gel promises to:
instantly plump the skin and keep it taut
fill and reduce the appearance of fine lines and wrinkles
restores moisture and boost dull, tired skin
They claim that it is clinically proven based on an independent survey of 25 women. This survey found that 84% of them noticed plumper skin after 1 hour, 92% noticed plumper skin after 4 weeks and 88% noticed firmer skin after 4 weeks.
I would take this with a pinch of salt.
Did it deliver on its promises?
I'm not convinced that the survey was all that unbiased or accurate. However, I agree that the Collagen Plumping Gel does deliver on its promises, sort of. Unlike many other products, the plumping gel only promises to do 3 very important things and it does it well.
Within minutes of applying the gel, my skin felt fresh and firm. It also helped my skin look more glowy and bright, and somehow, just more awake. Because it hydrated my skin and kept it moist, my wrinkles were less obvious.
This 'plump' feeling lasted until lunch on most days and then it sort of wears off. When I use it at night, the effect doesn't last til the morning and isn't obvious when I wake up. There are no lasting effects whatsoever. The plumping gel is a surface treatment. It doesn't change anything deeper than 'outer layer skin-deep'. But this is expected for a topical cream.
I used the gel in summer through to winter and it hydrated my skin just as well. No dry patches with the drier, colder climate and no oily feel during the humid, warmer weather.
Who is the Collagen Gel for?
I would say the gel is for anyone. Other than collagen, it contains some other beneficial skin ingredients that will benefit all skins. However, at its price point, I wouldn't use this gel as just a 'regular moisturizer' if you have no specific skin concerns.
Therefore, the people who would benefit most from this gel are those in their late 30s or 40s who are showing early signs of aging skin. This is also the age group who are most likely to have young kids aka 'never enough sleep' – this gel helps combat some of that to give you skin that looks a bit less tired.
I also found that this gel was good for my skin after a seborrheic dermatitis flare. It helped replenish some of the lost moisture and assisted in the repair my skin barrier. This is just anecdotal (and there may even be a placebo effect!), but it definitely didn't harm my sensitive skin post-flare and in fact, soothed it.
Who is it not for?
People in their 20s without aging concerns probably don't need this gel. I'm not sure that it's good enough if you have very dry or damaged skin either.
And it's a no for people who like natural skincare products.
What is collagen?
Collagen is a protein that is found in skin, bones, muscles, and other connective tissues. It gives these tissues their strength and elasticity. Collagen is produced by the body's cells, and it is necessary for the growth and maintenance of bones, muscles, skin, and other connective tissues.
As we age, we lose collagen. On our faces, this shows by drier, less elastic skin, fine lines and wrinkles.
What does a collagen moisturizer or gel do?
There are a gamut of collagen skincare products on the market today. Every Tom, Dick and Harry brand has a special collagen formulation. All of these collagen products promise to hydrate your skin, plump it up, and reduce the appearance of your fine lines and wrinkles.
Some even go so far as to promise to make you look years younger!
Depending on the quality of the product, what collagen moisturizers really do is very similar to good quality moisturizers – to provide your skin with temporary hydration, and as a result, give you a plumping effect.
Further reading: Does collagen help seborrheic dermatitis?
Do collagen moisturizers work?
Poor quality collagen moisturizers may even cause harm because they may contain chemicals and fragrances that can be highly irritating, especially when you have sensitive skin.
Good quality collagen moisturizers generally have a host of skin-beneficial ingredients like hyaluronic acid, niacimide, zinc, etc to help hydrate and firm your skin. As a result, skin looks more glowy and your wrinkles are less obvious.
Make sure you choose a collagen moisturizer that contains hydrolyzed collagen or collagen amino acids as these are smaller molecules that are more easily absorbed by our skin. Avoid moisturizers noting 'just collagen' on their ingredient list as collagen is a large molecule and it won't be absorbed.
There's really no strong evidence that collagen creams work. If you're deriving benefit from your collagen product, chances are its chock-ful of other ingredients that do all the heavy lifting.
One thing is for sure. Collagen moisturizers certainly don't erase wrinkles, remove dark spots or reverse aging. Damn.
You may be interested in reading my Lancome Clarifique Dual Essence review. Lancome utilizes french beech bud extract which contains hyroxyproline, a collagen amino acid that improves skin collagen a lot better than straight up collagen. 
Taking collagen supplements works better than slathering it on your skin. Collagen Complex provides 1500 mg per serving of hydrolyzed collagen peptides to support healthy skin and help heal your skin after an SD flare. 
Receive 5% of your order with discount code: FIVE$65911431. 
Side effects of collagen moisturizers
Collagen itself is a well-tolerated, benign molecule. For the most part, they are too big to be absorbed anyway and just sit on your skin, looking bored. It's unlikely that applying collagen on your skin will harm you.
However, all collagen moisturizers come with a whole list of accompanying compounds. Some of these are good and some not so good. It is to these that you may get a reaction – stinging, burning, redness, or even an allergic rash.
Which is better for wrinkles – retinol or collagen?
Without a doubt, retinol is better for wrinkles than collagen is. For one, retinol is absorbed a lot better than collagen. If a compound isn't taken up by the skin cells, what use is it?
However, retinol is also a lot more irritative and can definitely burn if your skin barrier is damaged. It definitely burned for a good few minutes when I unthinkingly applied a retinol cream once when I had a seborrheic dermatitis flare.
Check it out on Amazon
Further reading: Is retinol good for seborrheic dermatitis?
There are gentler formulations of retinol but if you have sensitive skin or you're worried about the side effects of retinol, using a good soluble collagen skincare product like Dr Lewinn's Plumping Gel will help hydrate your skin and play down your wrinkles temporarily.
Check it out on Amazon
To wrap up
Most collagen moisturizers are a hype and probably do nothing for your aging skin. However, some products like Dr Lewinn's Plumping Gel also contain other skin-beneficial compounds like niacimide and hyaluronic acid to help hydrate your skin and improve the appearance of your fine lines.