Confused about whether Aquaphor is good for seb derm? Or for your skin for that matter?
Aquaphor is an established brand that is widely marketed as being an awesome moisturizer for dry skin, eczema and skin rash. But it's not a good choice for seborrheic dermatitis. 
I'll tell you why. 
Aquaphor is an ointment that contains petroleum jelly and other moisturizing ingredients. It's used to treat dry skin and minor skin conditions. Aquaphor products containing petrolatum can clog pores, increase skin oiliness and aggravate seborrheic dermatitis.
Check out my channel on Youtube. It's a good place to hang out and get some conversations going about seb derm. The video below is only my second one. It's better than my first video. The good thing about starting from rock bottom is that it can only get better from here:
For healthier, safer alternatives that perform just as well, check out my article on the 6 best natural alternatives to Aquaphor (and DIY options).
Let's take a deep dive:
Is Aquaphor good for treating seborrheic dermatitis?
As with all creams and treatment, some people do find that Aquaphor ointment helps to soothe their skin. However, many more will say that it made their symptoms worse.
Ointments are usually the first choice for treating skin rashes. They come in a variety of textures, consistencies, and feel on the skin. Ointments have a higher oil content than creams and lotions, which means they are better at sealing moisture in the skin and don't generally burn or irritate sensitive skin. However, they can make your skin greasier.
As Aquaphor ointment contains petrolatum, it can clog pores and make your skin oilier. If you have seborrheic dermatitis, don't use Aquaphor ointment on affected areas. However, if you have dry, cracked skin on other parts of your body, Aquaphor is an amazing product:
Check it out on Amazon
Side effects of using Aquaphor for seborrheic dermatitis
When used for seborrheic dermatitis, Aquaphor may cause a few side effects. The most common is a burning sensation on the skin, followed by an oily feel. In some cases, Aquaphor can also lead to dandruff or worsen inflammation, leading to pain and swelling.
There are plenty of great moisturizers that are safe for seborrheic dermatitis. You don't need to take the risk with Aquaphor ointment.
Rather than using Aquaphor, Vaseline and other petroleum jelly products, why don't you try a natural jelly like Cleanalyn Eucalyptus Jelly?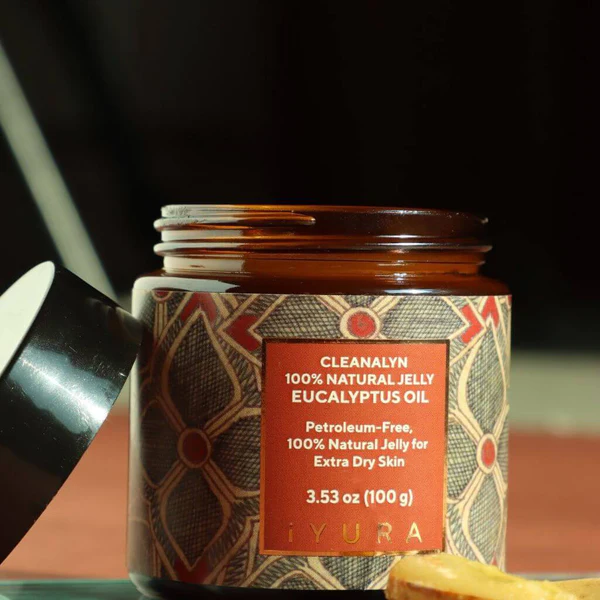 Check it out at The Ayuveda Experience
This Ayurvedic balm outperformed petroleum jelly in clinical testing. It's more moisturizing and gives your skin a luminosity that Aquaphor never could. 
Best of all? You get a 15% discount at The Ayurveda Experience and a 30-day risk-free money back guarantee if you're not 100% satisfied! 
Can I put Aquaphor on my scalp?
I don't recommend applying Aquaphor on your scalp. The ointment will make your scalp and hair greasy, leading to intense itchiness. It won't help with dandruff or seborrheic dermatitis and may actually make your symptoms worse.
However, you can safely use Aquaphor shampoo on your scalp. The shampoo formulation doesn't contain petrolatum. Even though it's not medicated and won't help treat seborrheic dermatitis of the scalp, it's gentle and won't harm.
You can use Aquaphor ointment on your baby's cradle cap. Rub the ointment on and use a soft hairbrush on the crust. Make sure you then shampoo all the ointment off. Don't leave it on your baby!
Does Aquaphor clog hair follicles?
Aquaphor ointment will clog hair follicles and make your hair greasy. Aquaphor shampoo, on the other hand, is gentle and light. It foams beautifully and washes out easily. Aquaphor shampoo doesn't clog hair follicles and there is no product build up on the scalp.
Can you use too much Aquaphor?
Aquaphor is a great product to use for a variety of reasons. It can be used as a lip balm, moisturizer, and skin protectant. However, you don't want to overuse it.
If you apply too much Aquaphor, your skin may start to feel oily or greasy. Using too much Aquaphor can also lead to acne breakouts and seborrheic dermatitis flares.
It's important to use Aquaphor sparingly so that you don't experience any of these negative side effects. Try applying it only once or twice a day and see how your skin reacts. If everything goes well, then continue using it in the same way. But if you start experiencing problems, discontinue use.
To wrap up
Aquaphor is affordable, readily available, and has been shown to be effective in eczema, dermatitis and other skin conditions. However, due to its active ingredient, petroleum jelly, Aquaphor can aggravate seborrheic dermatitis.
If you have dry skin and seborrheic dermatitis, why don't you try squalane oil or jojoba oil? There are some of the few 'safe oils' that don't clog pores or feed Malassezia.