There are so many moisturizers on the market with all sorts of active ingredients, everyone of them claiming to be amazing. There is actually no one best moisturizer for seborrheic dermatitis. It all depends on your skin type and sensitivity profile. In fact, you may even need to use different moisturizers during the various phases of SD and the environment that you're in.
Let's take a deep dive:
Importance of the right face moisturizer for seborrheic dermatitis
Let's be clear about one thing: 
There is no moisturizer that will cure your seborrheic dermatitis or make it go away quicker. 
However, the right moisturizer is important for these reasons:
discouraging Malassezia growth by reducing sebum overproduction
 helping your skin repair after a flare of seborrheic dermatitis
protecting your skin from the environment while its skin barrier is damaged 
It takes some trial and error but these moisturizers will start you on the right track to finding your 'soul-face cream':
Check it out on Amazon
Or get it cheaper from DermStore
Automatically get 20% of retail pricing and new customers get 15% off when you buy EltaMD from DermStore.
The EltaMD Therapy is a great moisturizer that can be used during a seborrheic dermatitis flare and the times in between. This oil-free, light-weight moisturizer contains hyaluronic acid to pull moisture into the skin cells and stimulates your skin's natural water system. It doesn't contain oils or heavy emollients, both of which can worsen SD.
EltaMD Therapy also contains niacinamide (vitamin B3), which is proven to reduce symptoms of seborrheic dermatitis and prevent flares.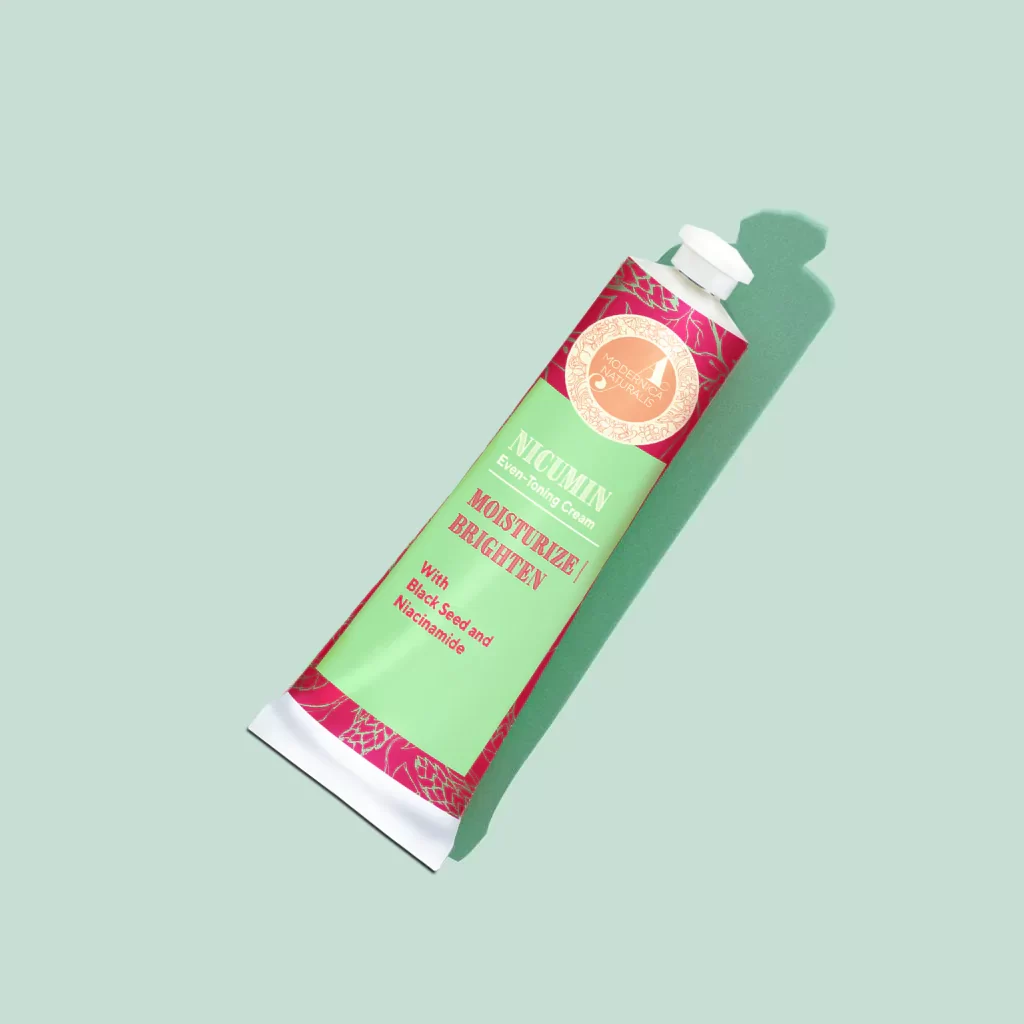 Check it out at The Ayurveda Experience
This Ayuvedic 100% natural moisturizer has a balanced formula to target 'confused skin' that is sometimes too dry and too oily at other times (sounds familiar?). It's enriched with black seed and niacinamide, both of which are great for controlling seborrheic dermatitis. It smells amazing, thanks to essential oils like geranium and bergamot. 
The best part? You get 15% off at The Ayurveda Experience and a risk-free 30-day money back guarantee if you're not 100% satisfied! Win-win.  
Check it out on Amazon
This face cream is packed full of skin-soothing actives like pycogenol, aloe vera, Vitamins A, C and E, making it a great choice when your skin is inflammed and painful. 
It's also 100% vegan, cruelty-free, doesn't contain parabens, sulfates, mineral oil, lanolin, or even gluten. 
Just be aware that due to its natural ingredients, the cream is a brownish color and looks like tinted moisturizer. 
Check it out on Amazon
Or buy it cheaper at Natural Health Source
Unlike Amazon, Natural Health Source allows you to try any of their products risk-free for 67 days! If you find that the moisturizer doesn't work, just return it for a full refund. 
After the inflammed phase where your SD rash is red and itchy, comes the flaky phase. Your skin barrier has been brutally damaged and microspically, the whole scene looks like a post-war movie. This is the phase where you need to treat your skin with more TLC and supply it with the raw ingredients needed to rebuild a strong skin barrier. 
Not all collagen creams are equal. Most contain 'just collagen' that doesn't get absorbed. Skinception Kollagen Intensiv contains Syn®-Coll which is not collagen at all but the building blocks needed for your skin to build its own collagen. It also contains shea butter, hyaluronic acid, hibiscus extract, green tea extract, Vitamin A and Vitamin E to boost skin health. 
As a bonus, Kollagen Intensive also works on reducing signs of aging like fine lines, wrinkles, lax tone and age spots.
Further reading: Does collagen help seborrheic dermatitis?
Check it out on Amazon
The Cerave AM Facial Lotion is a micro-fine zinc oxide sunscreen. It spreads easily and absorbs quickly, leaving a non-greasy finish. Zinc oxide also has antifungal and antibacterial properties.
As a bonus, it also contains hyaluronic acid, niacimide and ceramides to hydrate and protect the skin barrier.
Although sunlight helps improve an SD flare, getting too much of it can damage the skin barrier, which can aggravate SD. For this reason, and for prevention of other skin cancers, if you're going to be exposed to UV light for a while, I recommend a good sunscreen with at least SPF 30. For health reasons, I prefer physical sunscreens compared to chemical ones. 
As with any physical sunscreen, if you use too much, it can leave a  whitish residue and pill. I haven't found a physical sunscreen that feels great yet but I guess you can't have your cake and eat it too.
Best moisturizer for co-existing seborrheic dermatitis and rosacea: Skinception Rosacea Relief Serum
Check it out on Amazon
Or buy it cheaper at Natural Health Source
Unlike Amazon, Natural Health Source allows you to try any of their products risk-free for 67 days! If you find that the serum doesn't suit your skin, just return it for a full refund. 
 Regular application of the Skinception Rosacea Relief Serum reduces redness, inflammation and spider veins. It contains Renovage®, a french anti-aging complex that contains teprenone. Results from clinical trials actually found that the compound reduced redness in 90% of users and improved skin barrier (a big problem with both seborrheic dermatitis and rosacea). 
Check it out on Amazon
Or get it directly from DECEIM and check out some of their other amazing products. 
I'm as surprised as you are that there is an occlusive moisturizer that doesn't make SD worse. I was wary about trying it but I found the Hydration Vaccine surprisingly helpful after a bad SD flare when my skin was super damaged, dry and flaky. My face kept drying and cracking on me, especially when I was in an air-conditioned room or under a fan. 
I then found that when I applied HV on top of my MooGoo Scalp Cream, it forms a protective canopy over my skin, reducing moisture loss.
When you apply the HV, it doesn't leave a greasy residue but it feels soft and balm-like. I would highly recommend the NIOD Hydration Vaccine for winter use and if you have dry or dehydrated skin, especially after an SD flare. However, it may not suit you if you have oily skin. It can also feel too heavy if you live in a warm and humid environment. 
Read my detailed review of the NIOD Hydration Vaccine. 
Check it out on Amazon
Using MG217 is like wielding a double edged sword. It's a medicated moisturizer with 3% salicylic acid. The cream can definitely reduce scaling, redness and flaking. However, if you use it too often, it can slough off too much skin and cause irritation and redness.
Test the MG217 on a small area of your face first. If you don't react, apply it to the rough patches of SD. Even if you have bad SD, start with using it every alternate day and increase the frequency if your skin tolerates it.
If you only have mild SD, maybe use this cream as a weekly exfoliant or not at all.
It's a good product but use with caution. 
Further reading: Is salicylic acid good for seborrheic dermatitis?
Should I use moisturizer if I have seborrheic dermatitis?
Yes, using a moisturizer is pretty important if you have seborrheic dermatitis. In fact, it's second only to antifungal creams when it comes to preventative treatments. 
Even if you have oily skin, if you don't moisturize your face and drink enough fluids, your skin might get dehydrated, triggering your sebaceous glands to produce more oil. This can trigger a seborrheic dermatitis flare.
Further reading: Does moisturizer help seborrheic dermatitis?
How do moisturizers work for seborrheic dermatitis?
Moisturizers work by pulling and trapping water into the skin cells to help keep it hydrated and healthy. It restores the skin's natural lipid barrier by replenishing lost lipids and helping to rebuild the barrier. Lipids are essential to the skin's protective barrier and keep moisture in.
The skin barrier is essential in preventing desiccation, infection, mechanical stress and chemical irritation. Seborrheic dermatitis and the uncontrolled inflammation that happens on the outer layer of your skin causes a distruption of this protective layer. It's thought that Malassezia can penetrate deeper into the skin when the barrier is damaged, causing a vicious cycle of inflammation and further damage. 
Moisturizers can be humectants, emollients, or occlusives. They improve the skin barrier repair by acting like a humectant to retain moisture in the stratum corneum and maintain its integrity. Moisturizers help improve the skin's hydration, stratum corneum water content, and reduce trans-epidermal water loss.
Applying a moisturizing lotion smooths the surface of the skin by filling small fissures that are present when flakes are shed from the surface of the skin. It also fills spaces between partially desquamated flakes which restores the skin's ability to absorb and retain moisture.
They work in part by preventing corneodesmosomes from accumulating, which prevents the formation of the skin's barrier. Moisturizers have also been shown to promote continuity of the corneocyte layer by increasing hydration rates at the surface of the skin.
Further reading: Facials and face masks are like turbo-boosted moisturizers.  
How to choose a good moisturizer for seborrheic dermatitis
When it comes to choosing a moisturizer for seborrheic dermatitis, it is important to keep in mind that not all moisturizers are effective. In fact some can be downright bad for your skin and can worsen seborrheic dermatitis.
The best moisturizers for seborrheic dermatitis are those that contain ingredients like:
ceramides
hyaluronic acid
aloe vera
zinc
MSM (sulphur)
Look for a light-weight, water-based moisturizer that won't leave an oily residue on your skin. I've found that the more natural, fragrance-free it is, the better. I also usually avoid moisturizers with lots of active ingredients, especially during an SD flare.
Skin care ingredients to avoid
When it comes to skin care, there are so many chemicals in them it's scary. Some ingredients have been found to cause cancer, hormone distruption and all sorts of other bad effects. I'm not going to list all the generally harmful ingredients as the list will be too long. I'm just going to focus on ones that may worsen SD.
Moisturizer ingredients to avoid if you have seborrheic dermatitis:
Vaseline, silicones, lanolin, butters, oils and other occlusives can clog your pores and make your face more oily while alcohol, retinol and fragrances can irritate your skin, causing more inflammation.
Mosturizers that contain oils like olive oil and Vaseline-based products are not always effective. In fact, many of these products can actually make the condition worse.
I'm usually not a fan of oils. I find them too heavy. They don't absorb well and usually sits on the skin, making my skin feel really oily. In fact, when I use moisturizers that has a high content of oily ingredients, it worsens my SD. Having said that, moisturizers should contain oil as an ingredient as a little bit of oil helps keep your skin hydrated for longer. MCT oil and squalane oil contain fatty acids that have anti-Malassezia activity and can help to alleviate symptoms of seborrheic dermatitis.
To wrap up
Seborrheic dermatitis can be a difficult condition to manage, but using the right moisturizer can make a big difference. In fact, I don't even use makeup to cover up anymore during a severe SD flare. Unfortunately, the only way to know if a moisturizer is suitable for you (short of avoiding obviously wrong ones) is to try it out. 
If you're not ready to go au naturel, check out Makeup for seborrheic dermatitis: How to make yourself look beautiful.
You may also be interested in A seborrheic dermatitis skincare routine that actually works