BIOM8 oil is a blend of MCT oil, sea buckthorn oil and Vitamin E produced by Michael Anders from Skin Drone. The product doesn't have any clinical research backing it up but many people with seborrheic dermatitis swear by it. 
Let's take a deep dive:
What is Biom8 oil?
BIOM8 oil is a skin conditioning oil that is made of a blend of 5 ingredients (not sure why it's not called BIOM5) – caprylic acid, capric acid, tricaprylin, sea buckthorn seed oil and Vitamin E.
It doesn't contain preservatives, additives or bonding agents. All of the compounds are natural and safe for sensitive skin and seborrheic dermatitis. You can even use it on your scalp.
BIOM8 oil comes in 100 ml bottles with a spray pump or precision tip. You can then buy the 250 ml refill bottle. If you're not sure about it, you can try the 30 ml bottle instead to give it a whirl.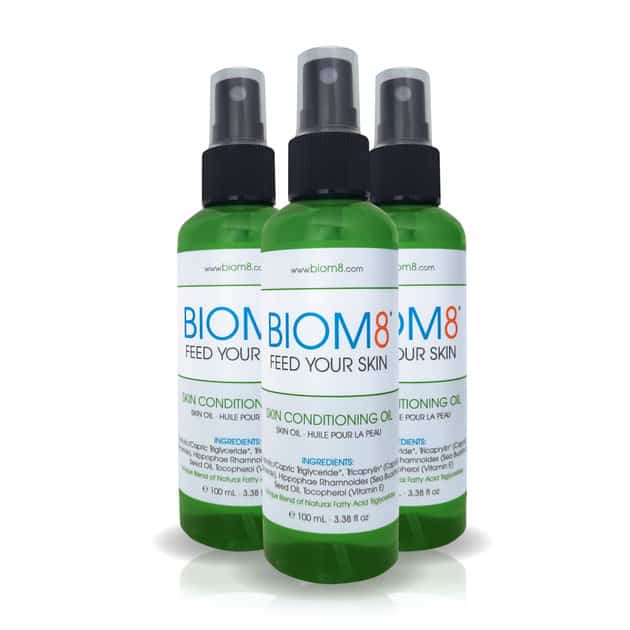 Is BIOM8 oil antifungal?
Caprylic acid, capric acid and tricaprylin are all medium chain triglycerides (MCTs) or its derivatives. In lab studies, MCT oil was shown to inhibit Malassezia furfur.
Sea buckthorn oil has a multitude of skin healing properties but is rich in a number of fatty acids including palmitic acid, stearic acid, linolenic acid and oleic acid. Unfortunately, these are long-chain fatty acids which Malassezia can metabolize to use as food.
Further reading: Is sea buckthorn oil effective for seborrheic dermatitis?
Does BIOM8 oil work for seborrheic dermatitis?
There is a lot of anecdotal evidence that Biom8 oil works for seborrheic dermatitis, but no scientific evidence. Some people have seen massive improvements and others haven't. It might work for you if you try it, but it's important to keep in mind that everyone's skin is different.
Toby Gomez, a Youtube influencer, swears by it:
MCT oil can inhibit Malassezia but sea buckthorn seed oil may encourage Malassezia growth. It's worth a try but if you find your SD worse after using the oil, stop it. Personally, I would prefer to keep it simple by using pure MCT oil with a few drops of tea tree oil or black seed oil instead.
Side effects of BIOM8 oil
While most people will not experience any side effects at all, some may find that they suffer from a few minor problems. The most common side effect is skin irritation or rash.
If your skin is already oily, BIOM8 oil may cause it to feel greasy and itchy. I know that with my skin, oils tend to make it worse. Some people just do better with water-based moisturizers rather than oils.
Bear in mind sea buckthorn seed oil may worsen SD. If you find that your skin becomes irritated after using BIOM8 oil, stop using it immediately.
The best way to use BIOM8 oil for seborrheic dermatitis
You can apply BIOM8 as a face moisturizer if you have dry skin. It's safe and gentle enough to use twice a day.
For your scalp, it's best used as a leave-in treatment after shampooing. Massage the oil into your scalp, avoiding getting too much on your hair so it doesn't get weighed down.
Remember that less is more when it comes to oils. Start with a few drops and work your way up from there if needed.
To wrap up
BIOM8 oil is worth a try if you would like to try an oil treatment for your seborrheic dermatitis. It would be especially effective if you have dry skin and as a result, have overactive sebum production. Seeing as sea buckthorn oil has long-chain fatty acids that may worsen SD, I prefer to use MCT oil without lauric acid.